Productbeschrijving
U wilt eerst maar voorzichtig een gevoel voor onze fotopuzzels krijgen? Of u zoekt een bijzonder cadeau voor iemand, die misschien niet zo veel tijd of zin heeft om te puzzelen? Dan kunnen wij onze kleinste premium-fotopuzzel met doos aanbieden. U kunt hiermee op 100 stukken uw foto laten pronken. Onze 100 stukjes puzzel is de eerste stap in de wereld van de fotopuzzels. Het beste is: U krijgt de van ons gewende hoge kwaliteit voor een gunstige prijs.
Wist u dat de 100 stukjes fotopuzzel dezelfde maat heeft als de 200- en 500 stukjes puzzels? Hierdoor heeft de 100 stukjes puzzel de grootste stukken, die het leggen van de puzzel ook voor ongeoefende handen eenvoudig maken. Dat maakt het voor onervaren puzzelaars toch heel erg leuk.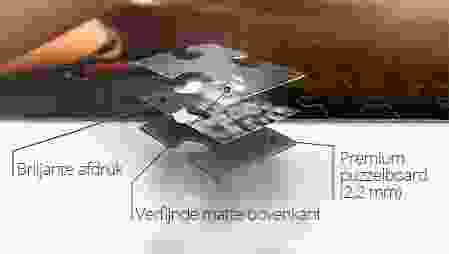 Leeftijdsadvies
Verpakking
De fotopuzzel wordt in losse stukjes geleverd in de door u gepersonaliseerde puzzeldoos.
Maat van de doos: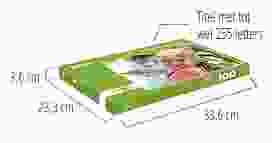 Maat van de puzzelstukjes:
In verhouding:
Tips & ideeën
Aanbevolen resolutie
De drukkwaliteit van uw fotopuzzel is afhankelijk van de resolutie van uw foto. Voor een fotopuzzel met 100 stukjes raden wij een foto met een formaat van 3409 x 2567 pixels aan.
Belangrijk: Let u goed op, dat uw foto niet wazig en vooral niet onderbelicht is.
Ontwerp-tip
Kinderen zijn gek op dieren - het maakt niet uit of het het een huisdier is of eentje uit de dierentuin. Waarom niet de lievelingshond, -kat of olifant op de fotopuzzel zetten.
Puzzel varianten
Kies uw fotopuzzel:
Puzzelbenodigdheden
Beoordelingen
De beoordelingen hieronder hebben alleen betrekking op het bestelde product en zijn eigenschappen. Alleen klanten, die het product hebben besteld, kunnen een beoordeling afgeven.
Veel gestelde vragen
Kan ik mijn fotopuzzel zowel horizontaal als ook verticaal bestellen?

U kunt het gewenste formaat zelf vastleggen aan de hand van de foto.

Hoe kan ik mijn gelegde fotopuzzel voorbereiden om hem bijvoorbeeld aan de wand te hangen?

U kunt uw fotopuzzel met onze Puzzel lijm vastplakken. Een nog beter alternatief is onze Fotopuzzelkader waarmee u de fotopuzzel met meer stijl aan de wand kunt hangen.

Kan ik de status van mijn bestelling zien?

U krijgt per e-mail een bestelbevestiging. In deze bevestiging vindt u een button, waarmee u de actuele status van uw bestelling kunt controleren. Kijkt u even in uw spambox als de bevestiging niet binnen 15 minuten zichtbaar is.
Als u op de button in de bestelbevestiging klikt, komt u op uw persoonlijke statuspagina terecht. Daar vindt u alle informatie over uw bestelling, zoals de betalingsstatus, de voortgang in de productie enz. Zodra uw pakket de productie verlaat, verschijnt hier ook het UPS tracking nummer. Als u op het tracking nummer klikt, wordt u naar het UPS tracking systeem geleidt, waar u het pakket kunt volgen.
Ook in de verzendbevestiging vindt u een button, waarmee u het pakket kunt volgen.