Kies uw fotopuzzel:
Video: Van een foto een puzzel laten maken, zo makkelijk gaat dat
Voor iedereen, die liever kijkt dan leest: In deze clip laten wij zien hoe onze premium puzzels eruit zien, welke varianten er zijn en hoe eenvoudig het ontwerpen gaat. Hier krijgt u een idee van de kwaliteit van de puzzeldoos en de eigenschappen van de puzzelstukjes - als video natuurlijk veel duidelijker en echter.
Verschillende puzzelmaten
Puzzeldozen met schitterende lay-outs
Snel en eenvoudig online ontwerpen
Ontdekt u nu onze unieke fotopuzzel voor uw mooiste foto's. Licht uit, spot aan.
Individuele give-away puzzeldoos - meer dan een verpakking
Met een puzzelkader nog mooier
Puzzelbenodigdheden voor meer ontspanning bij het puzzelen
Kwaliteit wint altijd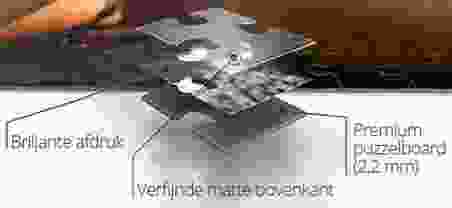 Iedereen wil graag het gevoel hebben in goede handen te zijn. Om u dit gevoel te kunnen geven, hechten wij heel veel waarde aan de kwaliteitskenmerken van onze fotopuzzels. Een reeks van kwaliteit beschermende stappen garandeert, dat u ook na jaren nog plezier aan uw fotopuzzel heeft. Om deze reden geven wij u garantie - zonder mitsen en maren. Uiteindelijk gaat het hier niet om zomaar een puzzel, maar om uw persoonlijke premium fotopuzzel.
Cadeau idee fotopuzzel
Doe jezelf een puzzelplezier
Puzzelen is goed voor uw gezondheid. Zelfs mensen, die vroeger heel veel puzzels hebben gelegd, ontdekken nu de fotopuzzel als een herleving van hun hobby. Wie wil er nog een gewone puzzel, als je een eigen puzzel kunt krijgen. Puzzels met eigen foto's veroveren België. Maar waarom is puzzelen dan uiteindelijk zo fijn? Ten eerste is iedere puzzel eigenlijk een uitdaging, die wij graag aannemen. Als de fotopuzzel dan van een eigen kiekje is gemaakt, dan is de motivatie des te groter om het doel te bereiken en het aan iedereen te kunnen laten zien. Echte puzzelaars vertellen ons vaak wat voor een ontspannend effect het leggen van een fotopuzzel heeft. Het is volgens velen de spannendste ontspanning.
Er zijn ook mensen, voor wie de artistieke component van een fotopuzzel belangrijk is. Zij maken bijvoorbeeld een landschapsfoto of schilderen iets, scannen het en maken daar dan een fotopuzzel van. Het is niet nodig om uit te leggen, waarom zij de reeds gelegde fotopuzzel niet terug in de doos willen doen. Voor deze mensen is de Fotopuzzelkader de eerste stap op weg naar hun eigen galerij.
Hoe kies ik een fotopuzzel?
Het aantal stukjes bepaalt hoe moeilijk het wordt
Wij produceren fotopuzzels met 48, 100, 200, 500, 1000 en 2000 stukjes. Wij willen zoveel mogelijk aan de eisen van het puzzelen voldoen en zodoende voor zowel de beginneling als ook voor de professionele puzzelaar iets te bieden hebben. In het algemeen kunt u ervan uitgaan, dat het des te moeilijker wordt, wanneer er meer stukjes zijn en de stukjes kleiner zijn. Zo zijn bijvoorbeeld fotopuzzels met weinig en met grotere stukjes beter geschikt voor kinderen of oudere mensen. Alhoewel het eigenlijk moeilijk is om te zeggen welke puzzel voor welke leeftijd het beste geschikt is, hebben wij op elke fotopuzzel detailpagina een leeftijdsaanbeveling geplaatst.
Een fotopuzzel bestellen en laten leveren
Weet u al of u één foto wilt nemen of liever een reeks foto's? Soms is het moeilijk te beslissen welke foto de voorkeur krijgt. Nadat u een foto heeft geüpload, kunt u aan de hand van een 5 sterren beoordeling zien, of uw foto geschikt is voor het gekozen formaat puzzel. In het algemeen kunnen wij zeggen, dat de fotopuzzel makkelijker te leggen is, als de foto veel details en veel kleuren heeft. Grote éénkleurige vlakken zijn heel moeilijk om te puzzelen. Bij het arrangeren van de puzzeldoos kunt u een tekst invullen, die 3 regels lang kan zijn en dan op de deksel van de puzzeldoos wordt gedrukt.
Met een klassieke puzzeldoos
Onze fotopuzzels leveren wij in losse stukjes, in een individuele puzzeldoos, die tegelijkertijd als cadeauverpakking kan dienen. Als u wilt, drukken wij de foto ook op de doos, met een door u verzonnen titel of een leuke tekst.
Al naar gelang voor welke gelegenheid het cadeau is bedoeld, staan er 80 puzzeldoos lay-outs ter beschikking, van cadeauthema tot en met voetbal. U kunt kiezen, of de foto ook op de doos wordt gedrukt of niet. Als het een verrassing moet worden is het natuurlijk fijn, dat u ook puzzeldozen zonder foto kunt kiezen. In het verdere bestelproces heeft u dan de mogelijkheid om puzzelbenodigdheden, zoals de Fotopuzzelkader, Puzzel lijm of de Puzzelmat mee te bestellen. Nadat u de bestelling heeft bevestigd, krijgt u een e-mail met de bestelbevestiging en een link naar uw persoonlijke statuspagina, waar u de status in de productie kunt zien en de verwachte leverdatum. Zodra uw bestelling de productie verlaat en naar de koerier wordt gestuurd, krijgt u van ons een verzendbevestiging met een tracking nummer.
Alle prijzen zijn inclusief BTW en exclusief verzendkosten.

1

Bij de lijst voor de fotopuzzel met 2000 stukjes maken wij om veiligheidsredenen gebruik van hoge kwaliteit kunstglas.